Republicans had a sizable wave in the 2014 House elections, taking a net of 12 seats (13 if Martha McSally wins the recount in Arizona) from the Democrats, giving the GOP its largest majority in decades.
Despite that wave, three Democratic House candidates managed to capture Republican-held seats. These upstarts -- Gwen Graham in Florida, Brad Ashford in Nebraska and Pete Aguilar in California -- demonstrate how, under the right circumstances, the right candidate can resist and even reverse a national trend. So, how did they do it?
Gwen Graham -- Florida's 2nd Congressional District
When Democratic Sens. Mark Pryor, Mary Landrieu, and Kay Hagan lost their re-election bids, analysts from across the ideological spectrum declared the white, rural, Southern Democrat (especially in the Deep South) all but extinct. While Florida is not generally considered part of the Deep South, much Graham's district might as well be -- making her the new "last white House Democrat" from the region.
Graham built her unlikely win in this Republican-leaning area of northwest Florida on an early start, sound strategy, her family name, and a vulnerable opponent. In May 2013, a year and a half before the elections, Graham was tapped by the Democratic Congressional Campaign Committee's "Jumpstart" program. According to DCCC Executive Director Kelly Ward, the program "provides early financial, communications, operations and strategic support to help top-tier candidates get a head start in these highly targeted races."
Graham's early preparation allowed her to catch incumbent Republican Rep. Steve Southerland off guard. For two months, Graham dominated the airwaves, building her brand around the "North Florida Way" rather than the national Democratic Party. Many Democratic House and Senate candidates in red states and districts used similar messaging, but their Republican opponents often prevailed by tying them to President Obama, Senate Majority Leader Harry Reid and House Minority Leader Nancy Pelosi. By starting early, Graham was able to define herself and keep Southerland from tying her too closely to the Democratic Party.
In the waning days of the campaign, Graham put a punctuation mark on this strategy during a Tallahassee debate with Southerland. Asked by moderator Carl M. Cannon of RCP whether she would vote to retain Pelosi as Democratic leader if she won, Graham answered unequivocally: "No, I would not."
The challenger's family was also an advantage. Her father, Bob Graham -- a former governor and U.S. senator who is still popular in the Sunshine State -- campaigned for her arduously.
Southerland, a conservative elected in the 2010 Republican wave, didn't run as adroit a campaign as he had two years earlier. Graham's campaign consistently outhustled him, local observers noted, while also out-fundraising him, bringing in $3.2 million to Southerland's $2.6 million.
The incumbent also made costly gaffes. In 2011, he complained that his $174,000 per year congressional salary was small compared to the amount of work he did. He also came under fire for hosting an all-male fundraiser in March 2014 -- the invitation for which said to "tell the misses not to wait up because the after dinner whiskey and cigars will be smooth & the issues to discuss are many."
Democrats used the event to portray Southerland as sexist, to which Southerland responded, "I live with five women. That's all I'm saying. … Has Gwen Graham ever been to a lingerie shower? Ask her -- how many men were there?"
Although Southerland later explained that his comments were meant only to point out that organizations often host stag or women-only events, the damage was done. While minor bloopers rarely change election outcomes, these comments reinforced negative impressions of Southerland and may have tipped this close race in Graham's favor.
On Election Day, she edged out her opponent, 50.5 percent to 49.3 percent, with Graham outperforming 2012 Democratic candidate Al Lawson in all but one of the 14 counties in the district. By driving up margins in Tallahassee and eating into Southerland's majorities in rural counties, Graham managed to put together a winning coalition.
Brad Ashford -- Nebraska's 2nd District
Nebraska Democrats had a tough election night. Republican Ben Sasse won every county in his bid for a U.S. Senate seat, and Republican Pete Ricketts won the governorship with 57.6 percent of the vote. Republican Congressmen Adrian Smith and Jeff Fortenberry won re-election in the 3rd and 1st districts with 75.5 percent and 69 percent of the vote, respectively.
Despite these big losses across the state, Democrat Brad Ashford managed to narrowly edge eight-term Republican Rep. Lee Terry by some 4,100 votes (out of 157,000 cast). Terry was first elected to Congress in 1998 with over two-thirds of the vote, but his support steadily dwindled over the years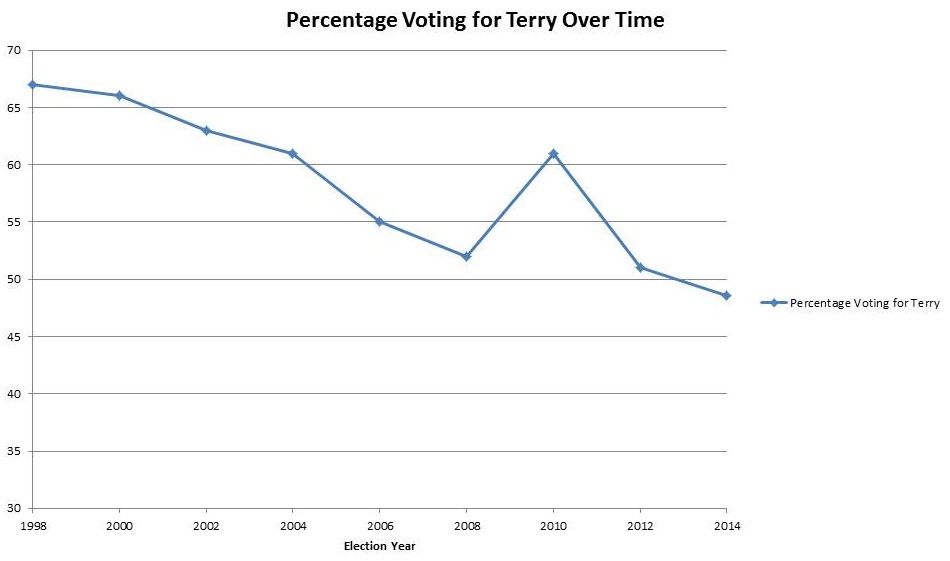 Aside from a brief uptick in 2010 -- also a Republican wave election -- Terry's downward trend was consistent. This is an odd pattern. Incumbency is often a huge advantage, but over time Terry lost steam instead of gaining it.

Robynn Tysver of the Omaha World-Herald explained the trend to RCP: "Terry was always in a losing-sum game. It's a swing district, and every two years, a relatively strong Democratic challenger would step in the ring and land a few blows. Each election cycle, he would win. But, each election cycle, his negatives grew."

Terry's opponents chipped away at his popularity by characterizing him as an ineffective legislator. Specifically, critics hit him for failing to sponsor a major bill at any time in his 16-year tenure. A source close to the Terry campaign argued that this was a mischaracterization of his record, citing his strong advocacy for the Keystone XL pipeline and his work as chairman of the House subcommittee on commerce, manufacturing and trade. Despite these protests, the feeling that Terry was unproductive on Capitol Hill grew steadily over time.

Nonetheless, as his congressional career wore on, Terry also faced increased opposition from within his party, drawing at least one primary challenger in every election since 2006. He was also in the unenviable position of being a Republican in an urban, swing district. This forced him to walk a tightrope between a conservative primary electorate and a more moderate general election electorate. In the 2014 primary, he nearly fell off that tightrope. Conservative businessman Dan Frei held Terry to a six-point victory despite Terry's roughly 20-to-1 spending advantage.

Both of these trends weighed on the Terry campaign, but a 2013 verbal miscue may have been ultimately done him in. During the government shutdown, various congressmen were giving up their pay -- or donating it to charity. Terry did not. When asked why, he said, "I've got a nice house and a kid in college, and I'll tell you I cannot handle it. Giving our paychecks away when you still worked and earned it? That's just not going to fly."

The Ashford campaign repeatedly used the quote to reinforce the image of Terry as an out-of-touch Beltway insider. "It was the last straw," noted Tysver, "for many people who had grudgingly voted for him over the years but had had enough."

Numerous other factors, including strong DCCC support for Ashford and the presence of a third-party Libertarian, contributed to the outcome, but the most salient feature was Terry's high unfavorable rating. He had been losing steam for a decade and a half, and Ashford ran a solid campaign in the right place at the right time.

Pete Aguilar -- California's 31st District

Aguilar narrowly defeated Republican Paul Chabot, taking the congressional seat vacated by retiring Republican Rep. Gary Miller. This race differed from NE-2 and FL-2. Aguilar was competing for an open seat rather than facing a flawed incumbent, and his district leans Democratic. It's not surprising that Aguilar won in a 49.2 percent Latino district that gave President Obama 57 percent of the vote in both 2008 and 2012. It's surprising that Chabot kept the race within three percentage points.

Chabot also had significant organizational and financial disadvantages, but this race was nonetheless close -- close enough that just a bit more support might have caused it to turn out differently.

One of Aguilar's biggest advantages was fundraising. He raised $1.9 million, while Chabot raised a little over $500,000. This allowed the Democrat to significantly outspend Chabot throughout the campaign.

Aguilar also had an organizational advantage. The DCCC included him in its "Red to Blue" program, a project designed to provide strategic and financial support to Democrats seeking to flip Republican-held seats. Aguilar, along with Ashford and Graham, was one of only nine Democrats selected for the program.

Chabot, on the other hand, received less support from the NRCC. In California, the NRCC primarily focused on ensuring that vulnerable incumbent House members fought off Democratic challengers. This left them with less money and time to devote to the Chabot campaign. Chabot's chief strategist, John Thomas, told RCP that "with more resources we would have won this race. We had the right message, candidate and team but not enough ammunition to deliver it to the low-information voters."

NRCC spokesman Tyler Houlton maintains that the NRCC made the right decisions with respect to funding. "We were very competitive in California and had great candidates, including Paul Chabot. Reps. David Valadao and Jeff Denham were soundly re-elected even after Washington Democrats recruited top-tier candidates against them," he said. "Like every committee, we have limited resources and utilize data and polling to decide where to spend our money."

This race then serves as a cautionary tale for both parties. Had Republicans spent more here, Chabot might well have won. Had Democrats spent a little less, they would be looking at a frustrating defeat in what should have been a relatively winnable district.

//